Not a fan of the heat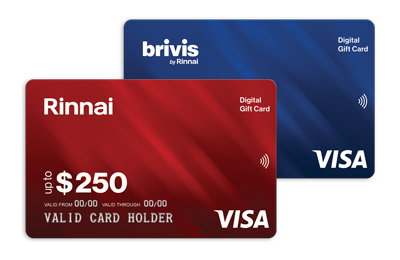 Ready for a Breath of Fresh Air?
Feeling the heat? Experience the refreshing relief of Brivis Australian made Evaporative Cooling. Our cooling solutions offer the perfect blend of natural cooling, advanced technology, and eco-friendly design. Enclosed in a UV-protected plastic case and built for the Australian climate, our evaporative coolers harness the power of water evaporation to bring down your home's temperature to your optimal comfort zone. With over 50 Years experience of helping Australians live in comfort, you can trust Rinnai's legacy of providing comfort and reliability.
For a limited time, chill out even more with a Prepaid Visa Card worth up to $250 on selected purchases.
Natural & Efficient Cooling
Using the natural process of water evaporation, Rinnai's Evaporative Coolers not only lower temperatures but also purify the air. Continuously refreshing your air ensures your indoor environment remains pollutant-free, with open doors and windows promoting natural ventilation. Plus, it's an eco-friendly choice with no synthetic refrigerants and up to 75% more efficiency compared to traditional Air Conditioning.
Smart Design & Features
From its contemporary low-profile design to the efficient cooling pads and self-cleaning water pump, our systems are engineered for excellence. The system's direct drive motor ensures optimal performance even during the hottest days of the Australian summer. All encased in UV protected, locally manufactured cases designed for longevity.
Total Home Comfort with Rinnai Touch
Pair your Evaporative Cooling with Rinnai's energy-efficient Ducted Heating for year-round comfort. Easily manage both your cooling and heating settings with our integrated Brivis Touch touch screen controller. 
Revitalise your home with the cooling breeze of Rinnai's Evaporative Coolers, and the luxury of optimal temperatures without compromising on the environment or your wallet. Ready to transform your space into a haven of comfort? Submit your enquiry below.
Purchase a participating Rinnai Evaporative Cooling product and receive a pre-paid VISA card valued up to $250.
PURCHASE START
9:00am AEST 1st November 2023
PURCHASE END
11:59pm AEST 31st January 2024
ALL CLAIMS TO BE SUBMITTED BY
11:59pm AEST 29th February 2024
rinnaipromotions.com.au/not_a_fan_of_the_heat